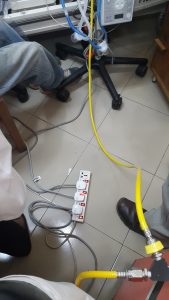 De hele middag zijn we bezig geweest op de kinder-intensive care een EEG te maken bij een tiener met faciobrachiale dystone aanvallen (da's smullen voor de neurologen) die we verdenken van een auto-immuun encephalitis. Het was een hele toer omdat de apparatuur gestoord werd door de ratjetoe aan beademingsmachines, uitzuigapparaten, pompen en monitors. Omdat er veel te veel op een paar stopcontacten aangesloten zit (zie foto) ruikt het al dagen onheilspellend naar smeltend plastic. Maar alles doet het nog, en dat al de hele dag op de generator want er is geen netstroom.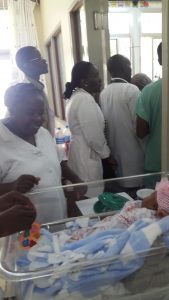 Maar het mooiste van deze afdeling (een inferno aan apparaten, voor hun levens vechtende kinderen en vermoeide moeders) is Bahati. Het betekent 'lot', en de naam wordt gegeven aan elk kind in het ziekenhuis dat te vondeling gelegd is. Deze Bahati werd een maand geleden aangetroffen, ondersteboven met haar hoofd in een WC aan de snelweg. Iemand is zo wanhopig geweest dat hij/zij van dit ongeveer drie maanden oude meisje af wilde. Met een flinke hoofdwond en de maden die uit haar mond kwamen werd ze gewikkeld in een politiecape afgeleverd. Ze herstelde vlot van haar verwondingen en was neurologisch in orde. Maar helemaal alleen. Inmiddels zijn we ruim een maand verder, en hoeft het meisje helemaal niet meer op een Intensive Care te liggen. Maar ze kan nergens heen. Vanaf het begin van haar opname zorgen alle verpleegkundigen, co-assistenten en artsen voor Bahati. Ik heb een lerares van de International School opgebeld die me nog maar een dag eerder trots vertelde dat haar babydochter zo snel uit haar kleertjes gegroeid was- juist. Die kleertjes zijn nu van Bahati. Er reisde een groep Nederlandse artsen rond die een zak knuffels had gedoneerd, en de eerste ging naar Bahati. Een neushoorntje- omdat ze bij de Neushoornrivier werd gevonden.
We lopen al weken visite, reanimeren, stoppen soms ook helaas met reanimeren, schrijven medicatie voor, wassen onze handen en gaan weer naar huis. Maar altijd is daar Bahati. Ze woont gewoon bij ons, midden op de IC en heeft haar wiegje temidden van het rumoer. En hoeft maar een kik te geven of er is een liefdevolle surrogaatmoeder of -vader die haar optilt, knuffelt en ronddraagt. Dat kan natuurlijk niet zo door blijven gaan en er wordt uitgekeken naar een geschikte plek voor haar. Maar in de tussentijd word ik er telkens weer aan herinnerd wat het zo bijzonder maakt om hier te werken.